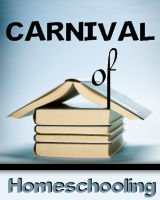 Homeschooling is one of the greatest joys of my life as a mother! I would have never expected it would be this way 15 years ago.  That's when I chose to  write my senior research paper in high school on the topic of home educating. It was nearly 8 years later when my husband and I made the ultimate decision that homeschooling was for us. We would start with kindergarten and reevaluate after the first year.  That was 6 years ago. I now have a 5th grader, 1st grader, and 2 more up and coming school kids.
My husband and I  have a handful of reasons while we continue on this path of home educating.
1) It's a spiritual conviction.  We believe we have been called by God to educate our children at home.  We believe that scripture training and worldview education are more important than any thing else that our children will ever learn.  We know this is not a priority of the public school scene and not even the main priority for many Christian school institutions.  We believe this type of training happens mainly at home.  The church is an extension of the spiritual rasining of a child, but it is not intended to be the sole insititution responcible for training children in the ways of the Lord.  Along that school of thought, we realize that the Lord does not call all families to have the same convictions. We have close friends who have chosen not to homeschool, but do a fine job of instructing their children at home in scripture and worldview.  We serve as youth pastors in our church and we are also privileaged to minster to the "spiritual orphans," teens who have no parental guidance when it comes to the things of the bible.
2) Influence-We are not comfortable allowing a teacher or a handful of teachers have influence over our children for the majority of a day. This is not because we don't know many fine teachers.  My husband and I are both public school graduates, and we can recall the numerous teachers and coaches who impacted our lives greatly.  Children are also influenced by peers.  We are called to be the greatest influencers in our children's lives. We can't counteract 6-8 hourse daily that our children would endure with adults and peers who have different worldviews and values than we do.
3) Personalized Education-We want a personalized education for each one of our children.  We evaluate each one of our student's interests and learning style, and then create our lesson plans accordingly.  We school gently and the children love, love, love learning!  We very rarely hear them speak negatively about their studies. They are learning things they are excited about and so they want to learn.  We enjoy great literature, art and music appreciation, history of all sorts and nature studies.  There isn't room for extensive study of these types of things in the public school classroom. Our daughter has been spending time each afternoon typing on the computer.  I didn't know what she was typing.  She finally shared her work with me.  She has written a  fictional story about the youngest girl in a family who is dealing emotionally with her older sister getting married and leaving the family.   I know this sounds like a simple theme, but the detail to the emotions, character, and settings is far above a 5th grade level.  Because of this writing I realize that I need to  spend more time encouraging my daughter in this area.   She is talented and she enjoys it! Personaliation is a huge benefit to our family.
4) Flexibility-We enjoy serving others, serving our family and  serving in our church.  We want to have our children with us doing these types of activities with out the restraint of a school schedule. Service is a characterisitic that we want to pass onto the children and the main way that we do that is by them seeing us do this on a regualr basis. We also like to be available to serve when it is needed.  We have often postponed school for the day to prepare a meal for someone or make a hospital visit. Giving of ourselves for others and for the glory of the Lord is a priority that we desire to pass on.
5) Togetherness-We love being together as a family. Some have wondered if we are keeping our children with us too much? How will they learn to be apart from us, deal with the world, and be a part of society? In answer to all of those things is we give our kids opportunity to be in environments without us, but in limited amounts of time and under the supervision of people that we trust.  They are in classes at church and participate in a local soccer program.  They have more friends than we can fit into our lives. Socialization is not an issue for us. We often have to slow down their social calendars, because we prefer  to be together as a family unit. We talk about world issues when they arise naturally from conversation heard from others, or from the bible.  The bible is full of just about every world issue you can think of.  We want to share the good, the bad, and the ugly of the  world with our children as a family unit.  There are 6, soon to be 7, members of our household. Spending so much time together forces us how to love, communicate and resolve conflict. These skills are transferred to other relationsihships outside of our home.
These five points are the main reasons that we choose to home educate.  If we were chatting over a cup of hot tea or coffee, I could give you about twenty more reasons, but I hope that for now these help you have a better understanding of our choice. If you are considering this choice for yourself I would love to discuss it in the comments section. I enjoy encouraging new homeschoolers in their journey. If you are already living this choice out, I would love to hear one or two or your main reasons for choosing to teach at home in the comments section too!
This post was published at Carnival of Homeschooling.  You can read other blogs pertaining to homeschooling at the Carnival! Click here for more.